November 17, 2007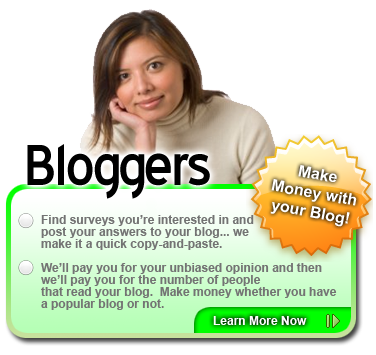 Quick Summary
dNeero helps bloggers make money filling out surveys and posting their answers to their blogs.
After filling out a survey here at dNeero.com you've already made some money. But you can make more by posting your answers to your blog (all you have to do is copy-and-paste a single line of code). Your blog readers will see your answers along with any other thoughts you had about the survey. Your readers can then complete the survey, or see how others from your blog answered. If they complete the survey, we pay you a recruitment fee based on what they earn.
How to Get Started
Sign Up is free. We collect some basics like email and password and then send you an email message to activate your account. After your first log in we'll collect some basic demographic information (age, gender, location, etc.) so that we can find the best opportunities for you. We'll present you a list of survey opportunities, you'll complete surveys of your choosing and within minutes you'll see an account balance. We pay your PayPal account whenever you accrue $20 in your account... no waiting unitl the end of calendar quarters!